how can you spruce up your home for holiday entertaining? try these easy, affordable and green tips!
Lead guests through your driveway and/or from parking to the main entrance with candlelit lanterns (use non-toxic candles of course!) using what you have even if they don't match. Don't be afraid to mix it up with different styles and sizes! Or you could rent them from an event rental company or perhaps a local showroom as some offer rental services like
Berbere Imports
in LA.
designer michael schaible image from architectural digest sep 2008



For something more festive, create a canopy, perhaps between 2 trees, either over the driveway or by the home's entrance, with strips of fabric torn (better than cutting) from fabric remnants. Or even just a few strips to sway in the wind to serve as a flag marking a driveway entrance and/or entrance into the house.
from flashdance, a collaboration of wedding vendors
Place a large plant in a planter/container or cluster of them on the ground by the main entrance or a smaller one could sit on a small stool.
Replace an old doormat with something like this coir one made from organic coconut husks, woven by hand.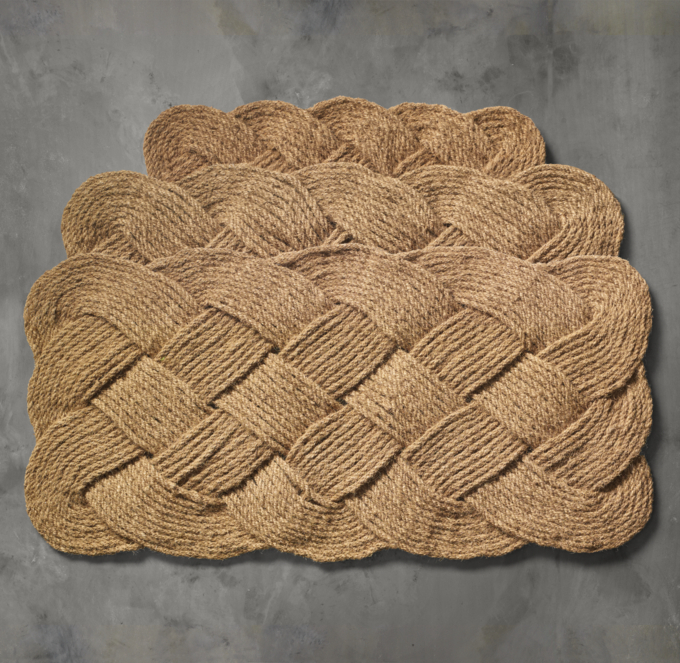 restoration hardware
Create a gracious entry with a console or for small spaces, a chair with a tray on it or books stacked and coats can even hang on the back of the chair and for even smaller spaces, a shelf.
Add a plant or flowers, a stack colorful coffee table books without paper sleeves, light a candle, group party favors in a large bowl perhaps on the books. Gifts could be teas, jams, homemade candy, colorful orbs made from recycled magazines woven in traditional bamboo methods or seed orbs which contain a Goat's Beard bud, picked May through mid August in northern NM, that opens inside a glass orb and reveals 60-80 seeds!
seed shaman places goat's beard buds in orbs which open up and reveal 60-80 seeds!
upcycled magazine ornaments
for the powder room or guest bath, add an assortment of linen napkins (they don't need to match) from the kitchen that can be placed in the bathroom for individual hand towels and/or d
rape a small piece of special linen over the counter.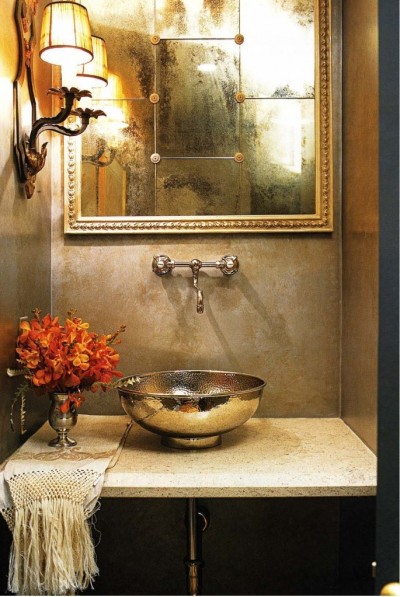 from the perfect bath blog
Replace everyday soap with a new one, either a special scented liquid soap or a beautiful bar of soap placed in a special dish pulled from the kitchen or dining room. Add f
lowers, even just a stem and leaf in a small vase from a large plant in the house or from the yard.
Provide hand lotion and perfume. And of course, l
ight a candle.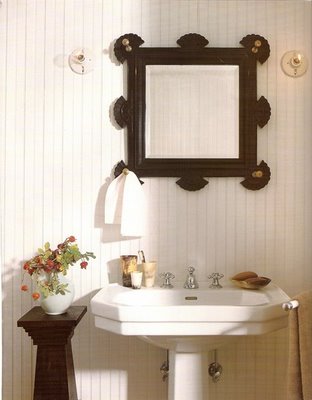 Take throw blankets from bedrooms and drape on a sofa and/or chair. Be sure to add layers of light and create balance by adding and/or moving floor and table lamps, dimmers and candles.
Have a little firepit inside your home to gather around with family and friends, especially if you don't have a fireplace to use. For tabletop or inside the fireplace instead of burning precious wood. Select one that uses Bioethanol, a wholly renewable source of energy that's made from agricultural products such as sugar, potatoes, beetroot, and corn. There are no emissions except for heat, water vapor/steam and low levels of carbon dioxide. You may even get a tax credit via the US Biomass Tax Credit which allows for a 30% consumer tax credit of up to $1500 per year with purchase before December 31, 2010!
Drape and even layer fabrics, cloths, or even a quilt over part or all of a dining table or even a small side table. Cluster similar vases/bowls on a dining table, console or shelf. Dig into your china closet and find little bowls, even a ramekin, or a small cheese tray and display interesting jewelry as a decorative table accessory.